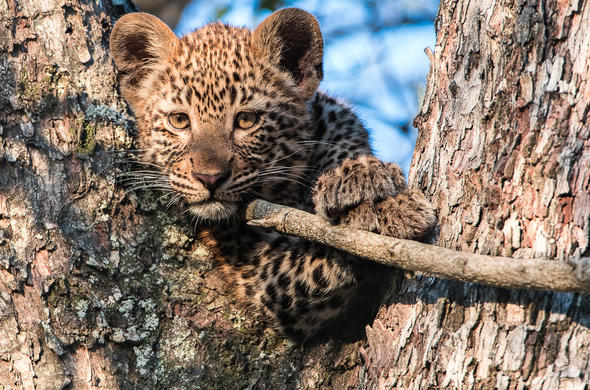 Located in the Sabi Sands Game Reserve, just outside the Kruger National Park, Londolozi is a world-class safari park that is renowned for their Leopard Conservation work.
Hidden away in the heart of the Sabi Sands Game Reserve, on the banks of the Sabi River; Londolozi Private Game Reserve is home to a array of African wildlife including the Big Five for the African animal kingdom.
Aside from incredible game viewing experiences, luxury accommodation and attentive service, Londolozi has become world renowned for their leopard conservation programme and the close relationship the rangers have built with the Leopards over the last few decades.
Broadminded environmental warriors
A family-friendly eco tourism lodge, Londolozi is committed to an ambitious conservation ethos. Even the name Londolozi means 'protector of all living things' in Zulu. Recognised around the world for their enlightened and modern stance towards land and wildlife management and rehabilitation, Londolozi also plays an integral role within in the community with a number of community outreach projects aimed at improving the local people's way of life, health, access to resources and education.
Exceptional Leopard Sightings
One of the highlights of any visit to Londolozi is the unbelievable sightings of Leopards that visitors can look forward to. Over the last 3 decades the rangers and trackers at Londolozi have been building a remarkable relationship with the free-ranging Leopards on the game reserve.The story of Londolozi's lover affair with Leopards began in 1979 with John Varty and ElmonMhlongo began a friendship with a mother Leopard on the reserve. Over the next consecutive 12 years the tolerant Leopard allowed these two adventurous naturalists into her world, allowing them a glimpse into the secret ways her very private world.
Since that first relationship was forged the rangers of Londolozi have tracked and chronicled the families of Leopards, taking photographs of them, recording their stories and getting to know their individual personalities.
They have witnessed the birth, life and death of many of the Leopards on the reserve and now proudly tell each of their stories. Today these stories are available online where they continue to entertain, educate, inspire and enthrall both past and future guests of the reserve.
Londolozi Lodges