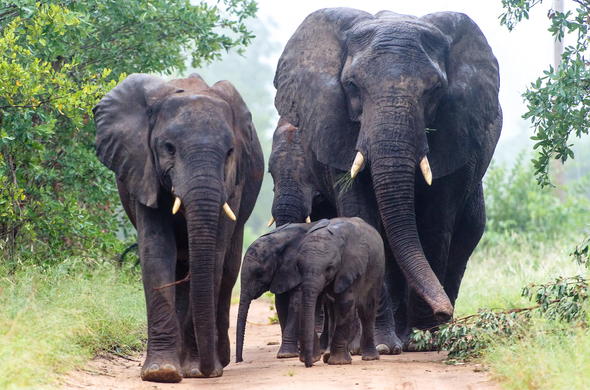 There are a number of exquisite safari lodges in the Sabi Sands Private Game Reserve that specialise in providing family friendly accommodation and activities. Here are our top 5.
Top 5 Family Lodges in the Sabi Sands
In order to ensure that every member of the family has an incredible time while in the African bush, a number of safari guest lodges in the Sabi Sands Private Game Reserve have created specialised packages to ensure that each member of the family, whether 10 or 50 years old has a phenomenal safari holiday.
These lodges have created special child-friendly activities that will not only keep the children entertained but will also teach them useful and interesting information and survival skills, all the while providing the opportunity for mom and dad to relax and enjoy some peace and quiet.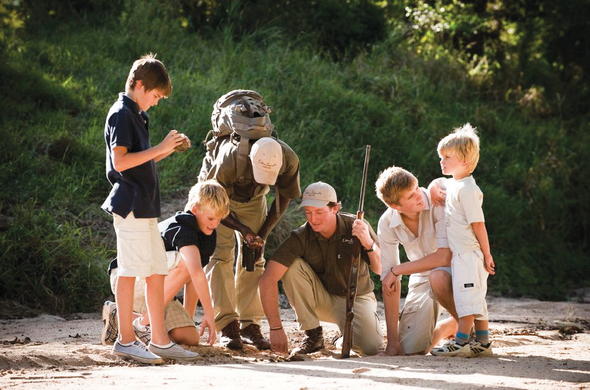 Londolozi Founders Camp and Londolozi Varty Camp
Located on the Sand River in the middle of the Sabi Sands Game Reserve, the reserve has become world-renowned for its work with wild and free Leopards and the relationship they have with the rangers and trackers on the reserve.
With a name meaning 'protector of all living things' in Zulu, Londolozi is one of the industry leaders in ecotourism within Private Game Reserves in South Africa. A family run establishment, Londoloziis a Relais& Chateau property and offers the one of the best safari experiences available.
An emphasis has always been placed on family at the lodge and today Londolozi is transformed into a child's dream-come-true, sharing the secrets and magic of the bush with them while instilling a greater understanding and appreciation for the natural surroundings within all children.
A specially created Londolozi Cubs programme has been created to ensure that every day spent in the bush is fun and exciting and unlocks a new and fascinating fact about the African bush. Children visiting the lodge become 'young rangers' and are taught about the vital role they play in conserving the environment and the relationship they need to maintain between the different people that live on the land.
Children spend time in the Cub's den where there are fish pounds to play in, campout tents to explore and an educational centre to learn in. The energetic and enthusiastic Cub coach oversees all of the activities and is skilled at making even the smallest of activities seem incredibly exciting.
The little ones that are below 6 years old are not allowed to go on safari, but while they (and the older children) are staying at the lodge they will be able to take part in a number of activities including candle making, Papier Mache, spoor identification, bird watching, African dancing and much more.
Read more on Londolozi Founders Camp and Londolozi Varty Camp
Elephant Plains
Children of all ages are welcome at Elephant Plains and those that are 12 or older are able to go on game drives but not bush walks. The mini tuckers programme is carefully constructed, according to the amount of children that are in the club at the time, to ensure that each and every child has a unique and enriching experience while on safari.
Friendly and dedicated staff guide children through activities such as constructing an ant farm and heading out on mini bush walks as well as beading, painting and drawing. Children are encouraged to learn, ask questions and grow and you are guarenteed that both you, your partner and the kids, either young or old will have an unforgettable experience while on safari.
Ulusaba Private Game Reserve
Richard Branson's private game reserve; Ulusaba invites families with children ages 11 years or older to join them in an adventure to discover the essence of an African safari. This family friendly lodge has specially created the Cub's Club where a range of activities are available for all children to enjoy. During their time at the lodge, children can also take part in the mini rangers course where they will learn special bush skills such as how to track and identify animals by their spoor.
The lodge is so orientated towards children and their enjoyment that they even offer a children's spa menu offering treatments such as a Choco Boo Hand and Foot treatment that pampers little hands and feet in a chocolatey experience.
While staying at Ulusaba children can enjoy Cub's cuisine meals and will receive a special Cub's Club Backpack filled with toys, games and activities to keep them entertained. Most of the activities are carefully designed to help the children learn about the African bush while still having fun.
The friendly staff are on-call at all times for babysitting, which is complimentary, to ensure that mom and dad can relax and enjoy their time together, safe in the knowledge that the little ones are being looked after.
Sabi Sabi Bush Lodge
If you are looking for a safari experience that is aimed at both adults and children with an emphasis on memorable moments and quality time together, then Sabi Sabi Bush Lodge has the ideal safari package for you.
A family friendly bush lodge, offers both young and old the opportunity to experience the power and sheer beauty for the African bush while learning more about the animals that are found here. The Elefun centre welcomes children of all ages and aims to foster a great awareness and appreciation for nature while ensuring the children are happy and well looked after throughout their stay at the lodge.
Offering hands on, professionally designed interactive activities, the Elefun centre has two distinct programmes, one; the junior tracker program, is for children ages 4 - 8 while the other; the junior ranger program caters specifically for children aged 9 - 12.
Activities are centred around an edutainment philosophy with activities ranging from map reading to identifying all things that fly, creep and crawl. Creative tasks and arts and crafts are combined with bush walks and talks into a morning and an afternoon session giving mom and dad plenty of time to relax and enjoy the incredible beauty and serenity of the bush.