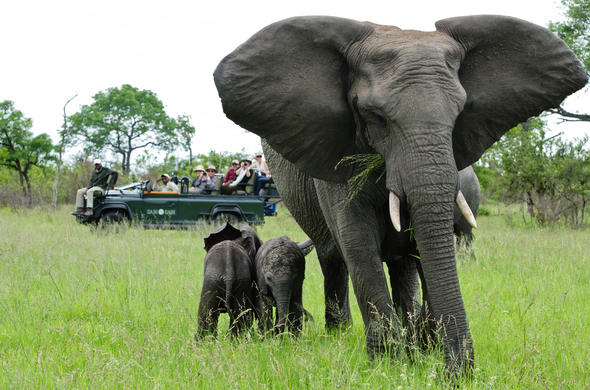 One of the highlights of staying at a luxury lodge on a private game reserve is the opportunity to explore the African bush on a guided game drive. Here is what to expect on a game drive in a private reserve.
An organised and guided game drive, accompanied by a game ranger, and perhaps even a tracker, is a completely different experience to a self-drive through a large national park such as Kruger National Park or Addo Elephant National Park.
Occurring at set times
When staying at a Private Game Reserve while on safari, visitors can look forward to enjoying
at least 2 game viewing opportunities per day
. These two opportunities are scheduled in the early morning as the sun is rising, and in the late afternoon and into the evening, after the sun is set.The game drives are planned for these times as this is when the wildlife is most active. During the heat of the day, from between 10h00 and 15h00, the
animals are more lethargic
, choosing to rather find shelter under the shade of a tree than to move around, making sightings more difficult and less fulfilling.In the early hours of the morning, and later in the afternoon and into the evening, animals wander down to the watering holes or meander across savannah plains providing excellent sightings and photographic opportunities. Evening game drives also offer the opportunity to
view nocturnal animals
such as Porcupines and Bush Babies and it is usually during these drives that private reserve visitors may even be able to experience a kill.The gates into the wildlife areas of large national parks open and close at set times each day preventing self-drive visitors from accessing the game viewing sections of the reserve early in the morning and after dark. Some
national parks offer organised evening game drives
at an additional cost, and these can be an opportunity to explore the reserve at night.
Ranger and tracker know the landscape
While staying at a luxury safari lodge, small groups of visitors will have access to
a highly skilled and knowledge game ranger
who will accompany them on each game drive during their stay, ensuring their game viewing excursions are highly enjoyable, educational and unique. These rangers are often accompanied by a tracker who is skilled at spotting the spoor of animals.As the ranger and the tracker know the area of the reserve intimately, they have a greater knowledge of the animals movements and whereabouts and are able to navigate to specific regions where a particular animal was last seen. This greatly increases your chances of seeing certain animals, especially the more secretive animals such as Leopards.
The ranger is also available to answer your questions
while you are on a game drive, providing visitors with a greater insight and understanding of the bush.Self-drive game drives can also be very fulfilling, and the excitement of stumbling on to a sighting of a herd of Buffalo or a family of Lion with cubs is an unforgettable experience. But the reserves are extremely large and
often a self-drive game drive is luck of the draw
, a factor that adds to the excitement and anticipation, but can also lead to many hours of driving around aimlessly in a random direction with only sightings of Impala and Zebra to be had.
Freedom of movement
While on a self-drive game drive you are accessing a government run area with strict road regulations.
There are specific roads
you are allowed to navigate, and set periods when you may access the game viewing area.On a private reserve the rules governing the national parks do not apply and
rangers can drive off the demarcated pathways
if it will result in a clearer view or when following an Aarvark on its nightly meander.
Less people
The number of visitors to a National Park has no restriction aside from when the
available accommodation units are full
, and even then the addition of day visitors entering the park for a few hours can add to the numbers.
A privately run safari park restricts the numbers of visitors within the reserve,
ensuring a more personalised and exclusive experience
. Your time spent at a luxury lodge will provide the opportunity to escape from the crowds allowing you to relax and absorb the sense of peace and tranquillity that the African bush radiates.
The different lodges and their rangers also have agreements with each other over the number of vehicles allowed at a specific sighting. This results in a
more intimate game viewing experience
, as you are able to enjoy the sight without numerous other vehicles vying for a position.