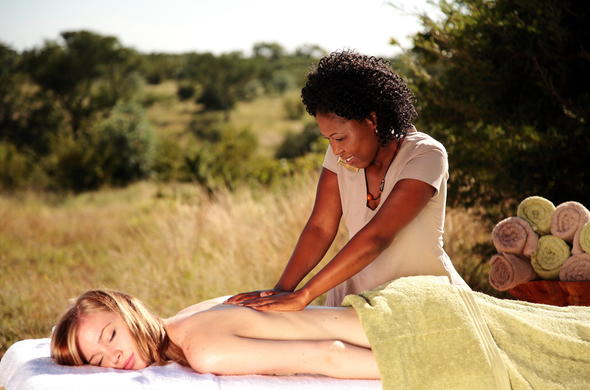 Enjoying a relaxing massage or a sensual facial while on safari at the Sabi Sands Private Game Reserve is a must-do activity while in the African bush.
A safari experience in the African bush is about more than sightings of wildlife such as Leopard, Cheetah and Elephants. A safari experience is about soaking up the peace and stillness of the African bush. It is about returning to nature and taking on a new rhythm, the rhythm of the bush, the rhythm of Africa.
A variety of treatments
The Sabi Sands Private Game Reserve has created a number of spas that can act as an oasis, offering you the ideal place to simply breathe in the fresh air, relax and unwind.
Concentrating on both the mind and the body, the Armani Spas at both the Bush Lodge and the Earth Lodge, offer revitalising massages, soothing beauty rituals and an array of indulging treatments to enhance your health and vitality and leave you feeling full of vibrancy and health.
Natural surroundings
The spa at the Earth Lodge has been carefully designed to meld into the natural surroundings, considering the elements and textures of the landscape. This in turn ensures a smooth transition into the experience. The spa is the perfect place to relax and rejuvenate.
The Spa Menu
Hydrotherapy, couples treatments, facials, manicures and pedicures and an assortment of massages are all on offer on the spa menu. The safari lodge also offers a Zen meditation area where couples or individuals can go when in search of additional peace and solitude.
Specialised therapists
Well trained spa therapists tailor-make your treatment to ensure all aches and sensitive areas are treated carefully. Spoil yourself and indulge in a spa treatment in the middle of the African bush, it will leave you feeling relaxed, rejuvenated and completely at peace.