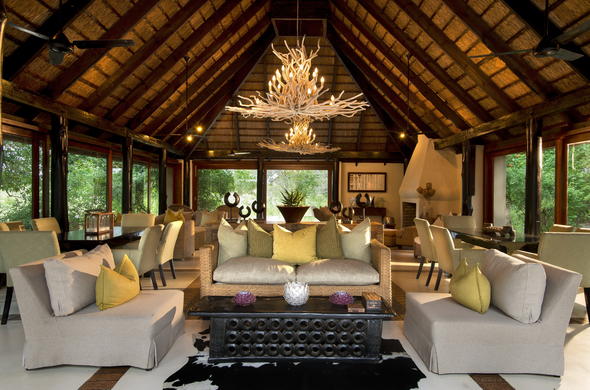 There is a single word embossed on the cover of the Lion Sands Private Game Reserve brochure: 'rare'. On closer inspection it would seem that this is exactly the right word to describe everything that goes into making Lion Sands, in the bushveld close to Kruger National Park, a perfect safari destination.
A Location that leaves a Deep Impression
It all started close on a century ago when the great-grandfather of current owners, Nicholas and Robert More, purchased land along the Sabie River for use as a private retreat. It is said that the wildlife and pristine condition of the property left such a deep impression on him that he never again took part in any form of hunting in his life.
Conservation
His passion for the wilderness and the need to conserve it has been passed down from generation to generation, and it is this passion that continues to imbue all that happens at Lion Sands. The family's commitment to conservation and the development of the local community reflects a deep sense of responsibility to their 'little jewel on the banks of the Sabie River'.Each of the rooms faces east, catching the sun as it rises over the river that marks the boundary between the reserve and Kruger National Park.
These principles are also inherent in the experience guests have at River Lodge and its ultra-luxurious sister lodge next door, Ivory Lodge. River Lodge perches above the permanently flowing Sabie River. Here, twenty rooms lie beneath 800-year-old jackalberry trees.
A Place of Abundance
Game is abundant in this area and guests are likely to spot the Big Five during a single game drive. Those who simply want to take it easy can spend time in one of two swimming pools or at the peaceful lounge and bar overlooking the river.
Superior Service
The lodges at Lion Sands are rare for their complement of staff, who are more like family than employees. This includes executive chef Janine Hobbs, whose long association with Lion Sands has not diminished her creativity. Inspired by local and international culinary trends and the availability of only the freshest ingredients, this imaginative chef and her staff produce unexpected and delicious combinations several times a day.
Visit Lion Sands River Lodge