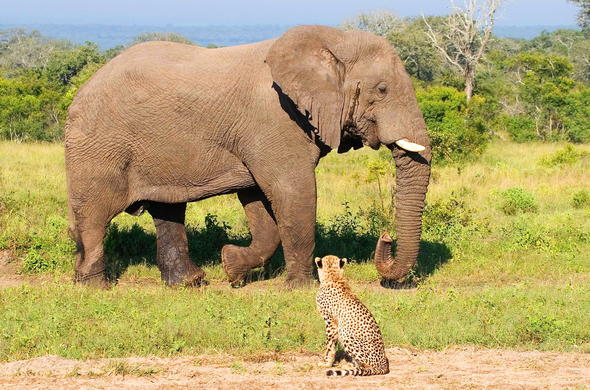 The Sabi Sand Private Game Reserve spans across 65 000 hectares of land, bordering the Kruger National Park, and is probably the richest wildlife area in South Africa.
Unrivalled Big Five Game Viewing
Sharing an unfenced border with one of South Africa's top tourism attraction; the Kruger National Park, the wildlife in the region is able to roam freely throughout the landscape. The reserve is home to an abundance of wildlife including the Big Five and a variety of other species such as Reedbuck, Kudu, White Rhino and Spotted Hyeana.Passionate and highly skilled guides, with the aid of local trackers, accompany you on game drives ensuring the best game viewing opportunities available. The organised morning and evening game drives provide visitors with opportunity to spend time with the game ranger while out in the bush, where they can learn more about the wildlife and their habitats.
The Ultimate in luxury
The choice of award-winning 5 star luxury lodges at Sabi Sands Game Reserve compare to some of the best in the world. Providing the highest quality in furnishings and fittings, large beautifully designed suites will become your home away from home during your stay in the safari park.There to ensure your every need is taken care of during your stay, the staff members in the Sabi Sand endeavour to provide nothing but the best service and hospitality. Some lodges even provide personalised butlers to cater to your every whim. The Sabi Sands lodges offer uncompromising style and elegance with attention paid to even the smallest of details.
Incredible Cuisine
Renowned for their incredible
cuisine on safari
, the Sabi Sands chefs conjure decadent delights to tempt your taste buds, producing perfectly cooked and beautifully presented dishes throughout the day.The Sabi Sands is the ultimate in African bush luxury and the perfect option for those discerning guests that are looking for incredible game viewing, attentive yet unobtrusive staff members, luxury accommodation and gourmet cuisine.